Born on August 09, 1986 in Hyderabad, India this right-handed player is coached by Pullela Gopichand.  Sports major Yonex sponsors Parupalli Kashyap. He is also supported by Olympic Gold Quest.
Parupalli Kashyap had started playing Badminton only recreationally when at the age of 11, his parents enrolled him in a summer camp run by SM Arif, a Dronacharya Award winner. He had a game that was evidently cut above the rest among other trainees at the camp. That prompted him to move to Bengaluru where he honed the skills of the game at Prakash Padukone Academy for three years.
However, in 2004 he was diagnosed with Asthma. An ode to his grit and positivity that he did not give in to the illness to hamper his playing career but sorted it by medications and focussed to march ahead. He went on to join Gopichand Badminton Academy in Hyderabad, run by the legendary Pullela Gopichand, who had won the prestigious All England Open, in 2001.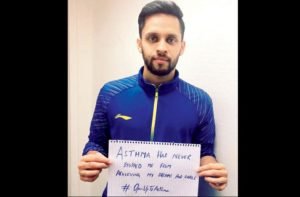 Over a period of time consistently winning and upping the scales at the nationals Parupalli Kashyap made his international debut in the year 2006.
He shook the world's attention as he defeated the then World No. 19, Przeymslaw Wacha twice in succession, over two weeks at the Hong Kong Open Tournament and the Bitburger Open Tournament. He broke into top 100 of the world rankings after his twin feats in the two tournaments.
In a career spanning 15 years and still in progress Parupalli Kashyap has conquered quite a few landmarks :
Semi-Finals 2010 Singapore Open, World Series
Indian Open Grand Prix, World Series, 2012
Became the first male badminton player from India to reach quarter-finals at the Olympics.
Was awarded Arjuna award in 2012
Achieved a career-high rank of World No. 6, on April 25, 2013
Claimed the Gold in Men's Singles at Glasgow Commonwealth Games, 2014
Silver medal, mixed team, at 2010 Delhi Commonwealth Games
Bronze medal, Men's Singles at 2010 Delhi Commonwealth Games
He became the first Indian Male Badminton player to reach the quarterfinals of an Olympics event when he reached the milestone at the London 2012 Olympics. He was bestowed with Arjuna Award by the Government of India for his effort
Parupalli Kashyap lay his hands at the Gold in Men's Singles at Indian Open Grand Prix, 2014. It was a sweetener in the sense that it was after 32 years an Indian lay claim on the winner's trophy since Syed Modi achieved the laurels in 1982.
He made it to the Indonesia Super Series Semi-Finals in 2015, however could not play due to a severe calf injury. He had defeated the then World No. 1 player Chen Long in the quarterfinals.
Parupalli Kashyap clinched his first international title after a gap of three years at the Austrian Open International Challenge in 2018 reinforcing him still as a force to reckon with. 
Parupalli Kashyap holds the record for the fastest smash by an Indian badminton player at 401kmph.
Parupalli Kashyap is married to Star Woman badminton player of India, Saina Nehwal.