Virat Kohli Profile
Born on November 05, 1988, in Delhi Virat Kohli is 31 years of age as in 2019. 
He plays jersey number 18 for team India 
Though his height is 1.75 m but the height of his records makes him stand a cut above the rest. Every era has players who have earned themselves as legends in the realm of the game. India has had quite a few of them. Carrying the mantle to a higher level is this Delhi born player who has scored huge runs across formats, across pitches with an increasing consistency over the years.
Such has been his flawless performance that it affords him a special stature in international cricket wherein Virat Kohli has virtually seized the summit of ICC rankings to his name.
Virat Kohli's Early Cricket Career
Rajkumar Sharma, at the West Delhi Cricket Academy was the first coach of Virat Kohli. His lad would go on to become one of the greatest sporting and youth icons of the country and Virat Kohli had caught his eye right from the beginning as a special talent with the caliber he possessed of a batsman.
Kohli was the captain of the India Under-19 side and led the team to victory at the 2008 Under-19 World Cup in Kuala Lumpur, Malaysia. Kohli then traveled to Australia in 2009 for the Emerging players tournament. Without taking the foot off the pedal in scoring big runs. he scored a fluent hundred in the final against South Africa. It was enough to guide the team to a convincing victory. Kohli's score sheet had read 398 runs from 7 outings with two centuries and two fifties.
Virat Kohli's debut to senior Indian cricket team
His sumptuous performances with the bat and the confident bearings facilitated his ODI debut for India against Sri Lanka on August 18, 2008.  Biding his time as a reserve initially, Kohli soon occupied a middle-order slot in the team.
He was also a part of the team that won the 2011 World Cup scoring an unbeaten 100 in India's first outing in the tournament. This was Kohli's fifth ODI century.
With the senior members of the world cup winning squad rested Virat Kohli was named in the Test side. And he made his test debut on June 20, 2011, at Kingston, Caribbean islands.
He was retained in the side that toured Australia but had a dismal record in the first two tests. However, in the third test and the subsequent fourth Kohli displayed the mettle which has defined the icon he is today.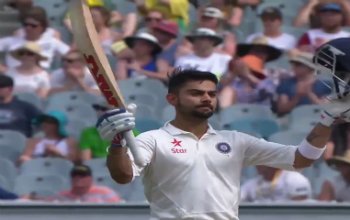 On a bouncy Perth wicket, Kohli notched up rearguard 75 runs and a century in the fourth and final Test at Adelaide. His century was the standalone triple-figure by an Indian player in that series. Kohli had his baptism by fire and fired back in confidence of a consummate bat with his scores shining under pressure of the brand of cricket dished out by the mighty Aussies.
Virat Kohli's memorable ODI runs
Kohli's inspired run in the ODIs flourished and runs flowed from his bat in a deluge. He overwhelmed the Indian record for the milestones in reaching every thousand runs in ODIs. Highlighted by the world record for the fastest to 9000, 10000 and 11000 runs in ODIs.
Virat Kohli's batting prowess even early on was decorated with the distinction of being the highest run-scorer for India in ODIs for three consecutive calendar years – 2010, 2011 and 2012 and winning the ICC ODI cricketer of the year award in 2012. This was in a team that had batting greats like Sachin Tendulkar, Virender Sehwag, Yuvraj Singh.
Kohli's special moment that hooked global attention came against Sri Lanka. In the Commonwealth Bank triangular series, staged in Australia, India had to chase an improbable target of 321 off 40 overs to stay alive in the tournament. He tore into the Sri Lankan attack as he struck a fierce 133 not out from a mere 86 deliveries and took India home with more than 2 overs to spare. It was a match that Sri Lankan great Lasith Malanga would not forget as Kohli carted him for 24 runs in an over.
Kohli was given the vice-captaincy of the team for the 2012 Asia Cup in Bangladesh on the back of his fine performance in Australia. Kohli ended the tournament with 357 runs at an average of 119 that included a masterly 183 off 148 balls against arch-rivals Pakistan. His knock was the highest individual score in Asia Cup history, the joint-second highest score in an ODI run-chase, and the highest individual score against Pakistan in ODIs.
Australia toured India for a seven-match ODI series in Oct-Nov, 2013. Kohli reaped a rich harvest of runs and records in this high scoring series with scores of 61, a 100 off just 52 balls as India chased down the target of 360 with six overs to spare. An innings of 68 in the next match followed by 115 off only 66 balls helped India successfully chase the target of 351.
His performances culminating in this series saw him move to the top position in the ICC ODI batsmen rankings for the first time in his career.
Virat's Test career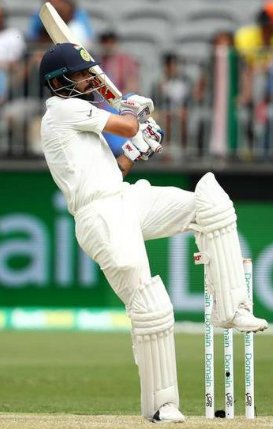 In the same year, 2013, Kohli heralded his advent in the five-day format of the game with classy Test hundreds in Australia and South Africa. In an ode to his strikes with the bat, he deservedly claimed the number one spot in the ICC rankings for ODI batsmen for the first time in 2013.
Kohli has had his weaknesses or rather batting uncertainty at one time exploited by English Pace Bowler James Anderson. Indian team toured England for a lengthy series of 5 test matches, 5ODIs and one T20, from June 22-September 7, 2014. Kohli couldn't open his arms that had given him a mountain of runs in the erstwhile.
In that series, he averaged just 13.40 in 10 innings with a top score of 39. He was particularly scratchy against the swinging ball on off stump line, getting dismissed several times edging the ball to the wicket-keeper or slip fielders. Man of the series James Anderson got Kohli's wicket four times.
Virat Kohli as captain
Kohli was anointed full-time test captain of team India after MS Dhoni's sudden announcement to retire that came in the middle of the series against Australia.
Dhoni was out of the squad for the first test owing to an injury and Kohli took the reins as Test captain for the first time.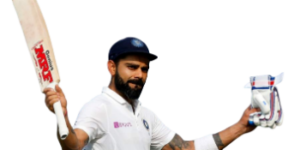 Kohli scored 115 in India's first innings, becoming the fourth Indian to score a hundred on Test captaincy debut. Set a target of 364 to claim victory India was 57/2 when Kohli walked in. Seeking a win with the equation and the bowling attack he set off in an aggressive manner.  Kohli sparked the chase with some belligerent strokes and together with Murali Vijay approached the target with a 185 run stand for the third wicket.
India's line-up that was placed at 242/2 to ultimately folded for 315, Kohli's innings of 141off just 175 balls had given jitters to the Australian camp prompting Aussie commentators to laud it as one of the best fourth-innings ton on the Australian soil.
Dhoni returned as captain for the second match of the series and in the Melbourne Boxing Day Test, the third of the series, bid adieu to his test career immediately post this test.
Kohli who had scored another century, 169 in India's first inning was made a full-time Test Captain with the fourth test. Kohli in the form of his life, hit another ton while beginning a new responsibility.
Kohli's first series as test captain though didn't had an auspicious beginning. India lost the first test of the three-test series of their Sri Lankan tour in August 2015 but came back strongly in the next two to wrap up the series2-1.
He had already made his T20I debut against Zimbabwe at Harare, in the Tri-Nation series in May-June, 2010.  Kohli made significant contributions with scores of 49, 56, and 41 remaining unbeaten in the last two innings as India won the T20 Asia Cup in Bangladesh. His tournament total of 319 runs won him the man of the tournament award.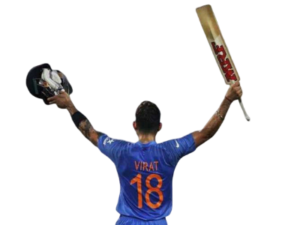 His red hot form with the bat continued at the ICC World T20  hosted in India in the year 2016, where he was again declared as the man of the tournament accumulating 273 runs in five matches with an average of 136.5. He had now won the Man of the Tournament twice at the ICC World Twenty20.
Kohli scored his first double hundred when he hit 200 in the first test at Antigua when India toured the West Indies in 2016. His second double ton didn't take long to come as 211 runs sere came from his bat in the third Test at Indore against New Zealand in India's home series.
For his performances in 2016, he was named as captain of the World ODI XI by the ICC.
Kohli continued his sublime touch the subsequent year when he slammed double centuries in the next two Test series against England and Bangladesh. A feat with which he surpassed Cricket legend Sir Donald Bradman's record of scoring double centuries in three consecutive series.
Kohli set aside his vagaries of English tour as India prepared to lock horns in their overseas tour of England in 2017. It was payback time for the batting great Kohli and he did so without flinching. In that series, Kohli amassed 593 runs to shun his critics off him being vulnerable to swing.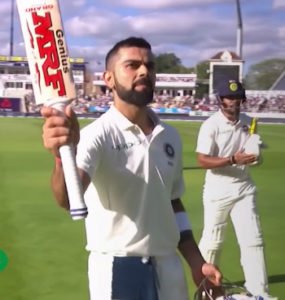 The year 2018 was another fruitful phase where his bat roared to accumulate 1322 runs in just 13 test matches. These were the most Test runs for the year by any cricketer.
Kohli added another feather to his cap as he lay claim to another record for an Indian batsman. That of most runs by an Indian batsman in overseas test matches in a calendar year. His tally of 1138 continued to fortify him as one of the best batsmen to ever take the crease. 
Kohli's 37th ODI century against the visiting Windies in 2018, concurred with getting to 10000 ODI runs. He was the fastest to reach that milestone.
A thorough statesman of the game, Kohli, while being a fierce competitor for the country on the field, shares cordial relations with players across nationalities, off it. It came to the fore when in his batting innings at the ICC World Cup 2019, he showed his dismay at Indian fans who were leering at Aussie bat Steve Smith.
Smith had earlier been indicted for ball-tampering charge and was banned along with teammates David Warner and Cameroon Bancroft from playing the game for 12 months, with 9 months suspension for Bancroft. All three had admitted to the charge and broke down when facing their country's media upon return. 
A resurgent Smith had scored well on his return. Kohli in that Ind vs Aus, World Cup match, while batting, irately gestured at the Indian fans, leering at Smith to rather applaud the Aussie batting star. Such gesture was widely received in international media and the player, Smith himself.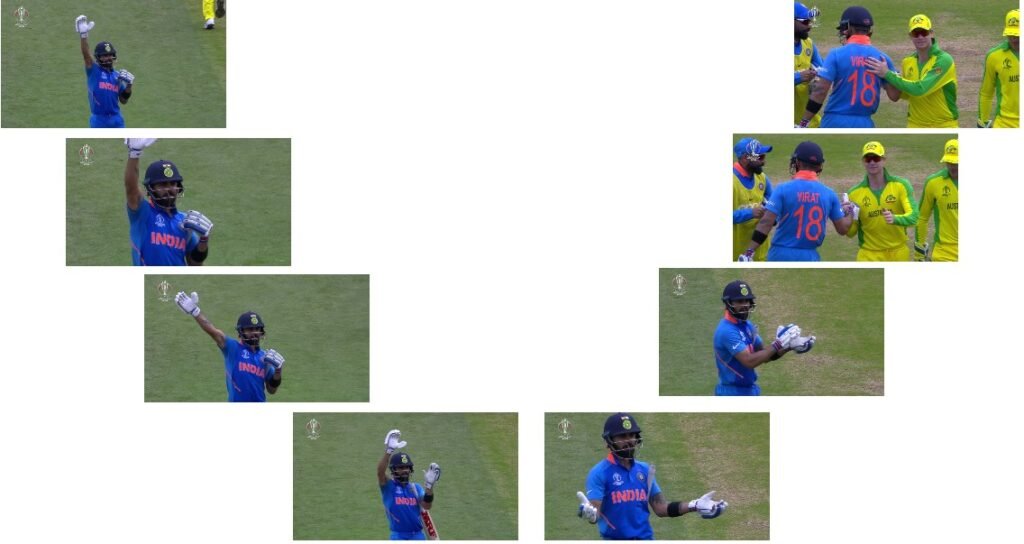 Virat struck his career-best test score 254 not out in the second test of the three-match series at home against the proteas. The Test held at Maharastra Cricket Association Stadium saw India piling up 601/5 declared. Virtuoso Virat's innings helped India win the Test by an innings and 137 runs, sealing the victory inside four days.
A year-by-year look at how Virat Kohli in Test Matches since his debut versus the Windies in 2011: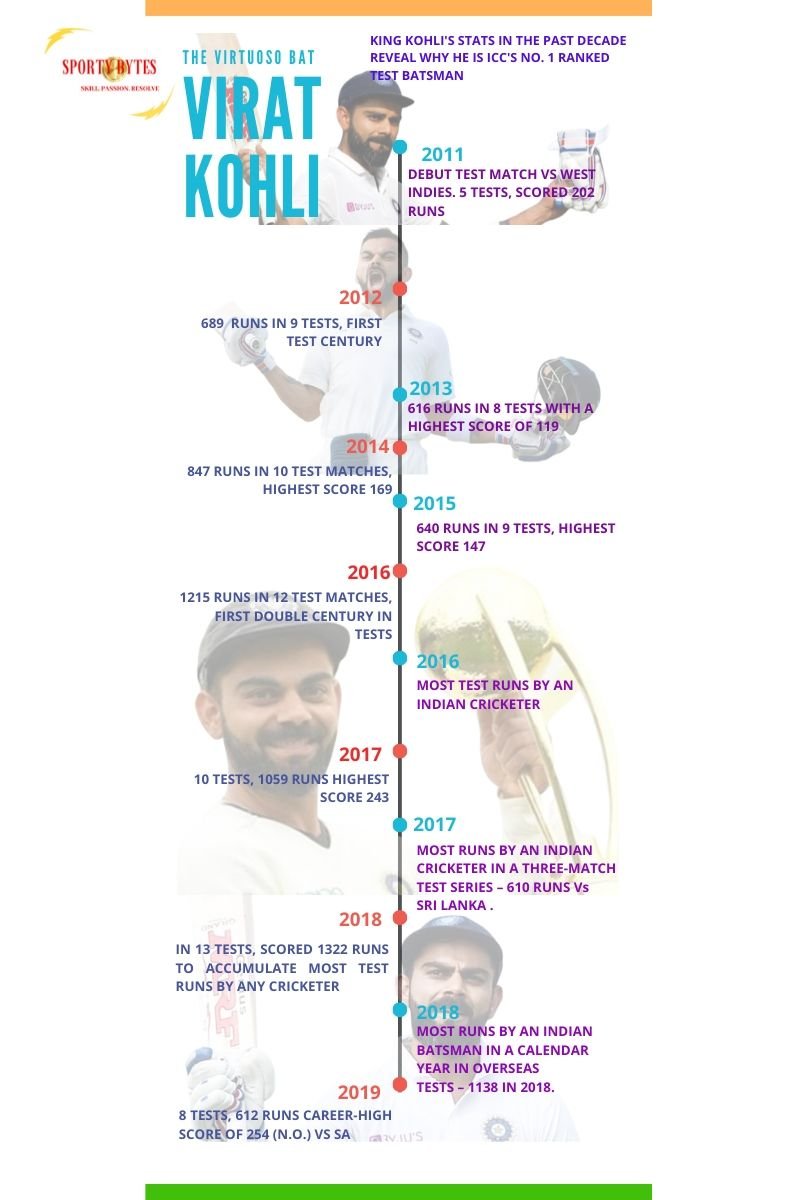 Kohli has stuck diligently to a fitness regime understanding its importance in bettering his game. His focus on fitness has inspired a change in the fitness culture for the team that is now, a group as fit and agile as the best.
His special approach to fitness & training has not only aided his big scores consistently but also come good for him as a skipper who's actively managing the team in the field in pursuit of victory.
Kohli's journey to the records is like a trekking trip to the mountain of records. Where every spot he has landed his foot on, unraveled a milestone. He never rested there rather picked the momentum to climb higher in the uphill trek of the cricketing summit and landed on the next spot which became another milestone for the world to note before finding feet for the next step, another milestone!
For a player who started his journey with the senior team in 2009 to receive the ICC Cricketer of the year award in 2012, 2017. India bestowed upon its batting pride the Arjuna Award in 2013,  the Padma Shri in 2017 and the Rajiv Gandhi Khel Ratna in 2018 which radiates the aura this legend of the game already has.
Virat Kohli on the strength of his batting fully deserved upon himself the Wisden Leading Cricketer in the World for 2016, 2017 and 2018.
Click here to Read M S Dhoni: Hallmark of Self-Belief & Cricketing Honour
Virat's runs and his warrior-like run with consistency, focus and dexterity has evolved his career into a foundation where runs in every subsequent match become an 'update for a record-to-be in today's match'. Just as an indicator in the just-concluded T20 series of the ongoing Windies tour, 2019, Virat Kohli hit 183 Runs in the three matches and became the leading run-getter in T20 internationals.
For this skipper of Indian Cricket Team, the Most successful captain now, it seems awards, milestones just trail Virat Kohli in his skill, passion, resolve for fitness and game. These honors are an attempt to mirror the glitter of the medals and trophies with the sparkling performances Kohli has consistently displayed are accompanied by our conscious self that rises to salute our and the game's virtuoso. A list of select few of them from a compilation of honors and milestones which otherwise is a cricketing scripture of honors :
Virat Kohli's Batting Milestones
It is not for nothing that Virat is famously called "King Kohli" and "Run Machine". The list of records he has set bear witness to his batting greatness.
Fastest batsman in the world to reach 8,000 [175 innings], 9,000 [194 innings], 10,000 [205 innings, in year 2018] and 11,000 runs [222 innings, in 2019] in ODIs

Fastest in the world to reach 30, 35 and 40 centuries in ODIs
Fastest in the world to reach 20,000 international runs. He achieved the feat in just 417 innings while playing the 2019 ICC World cup match against west indies. 

Fastest in the world to score 11,000 ODI runs

Quickest to 1000 ODI runs in a calendar year. he needed just 11 innings in the year 2018 to attain the feat. 

Only batsman in history to average more than 50 in Tests, ODIs and T20Is simultaneously
Fastest batsman, in terms of innings, to score 17,000 runs in international cricket.

Fastest batsman, in terms of innings, to score 20,000 runs in international cricket

First batsman to score 500 runs in a bilateral ODI series.

Fastest in the world to score 2,000 runs in terms of innings in T20Is (56).

First Indian cricketer to score three successive centuries in ODIs twice. first versus Sri Lanka in 2012 and then against the Windies in 2018.

Most double centuries for India in Tests (7).

Most ODI runs in 2017 [1460 runs, 26 matches] and 2018 [14 matches, 1202 runs] by any cricketer.

Most Test runs in 2018 by any cricketer.

Most ODI runs in 2010, 2011, 2012, 2013, 2014 and 2016 by an Indian cricketer.

Most Test runs in 2012, 2015 and 2016 by an Indian cricketer.

Most combined international runs scored in a year by an Indian cricketer – 2818 international runs in 2017.

Most runs scored by an Indian cricketer in a three-match Test series – 610 runs against Sri Lanka in 2017.

Most runs in a bilateral ODI series by any cricketer – 558 runs against South Africa in 2018.

Most runs by an Indian batsman in a calendar year in overseas Tests – 1138 in 2018.
Captaincy Records:
Virat became the first Indian Captain to win 7 consecutive test matches.

Under him, the team won 4 consecutive test matches by an innings.

– innings & 137 runs win against South Africa at Pune, 2019




–  innings & 202 runs victory against South Africa at Ranchi, 2019




– innings & 130 win against Bangladesh at Indore, 2019




– innings & 46 runs against Bangladesh at Kolkata, 2019

In year 2017 Virat became the first captain to score 10 international hundreds in a calendar year. He smashed 6 ODI hundreds and 4 in Tests.

He is the fastest captain to score 4000 runs[73 innings], 5000[93 innings], 6000[106 innings], 7000 [124 innings],8000[137 innings] in International cricket.

First Test captain to score centuries in each game of a three-match Test series.

The 2018 ODI series versus West Indies saw kohli becoming the first Indian as well the first captain to score three successive centuries in ODIs.

Fastest captain to score 9,000 runs in international cricket. He achieved the feat in only 159 innings, superseding Ricky Ponting's record who achieved in 204 innings.

First Indian captain to have won at least one Test in South Africa, England and Australia.

Captaincy didn't slow down Virat's run flow. As he became the first batsman to score three centuries in his first three innings as Test captain. 

He is the first Indian Test captain to score a double century on foreign soil. He stroked exactly 200 against West Indies at North Sound, Antigua in 2016. Incidentally it was his first double hundred in tests.

Fastest to 5000 runs in Test Cricket as captain. Kohli achieved the feat in his 53rd match taking 86 innings overtaking Ricky Ponting's erstwhile record which he set in 5 matches and 97 innings.

Fastest captain to 11000 runs as captain across formats. he achieved the feat in his 196th international innings beating the 252 innings taken by Ricky Ponting of Australia to get to the feat.

Kohli has hit the most ODI centuries as a captain of India (13).

Most ODI runs in a calendar year as captain. 1460runs in 26 ODIs in 2017 to topple Ricky Ponting's record of 1424 runs which he set in year 2007.

Most test wins as an Indian captain. it's 33 till yet.
Achievement and Awards:
Sir Garfield Sobers Trophy (ICC Cricketer of the Year): 2017, 2018
ICC ODI Player of the Year: 2012, 2017, 2018
ICC Test Player of the Year: 2018
ICC ODI Team of the Year: 2012, 2014, 2016 (captain), 2017 (captain), 2018 (captain)
ICC Test Team of the Year: 2017 (captain), 2018 (captain)
Polly Umrigar Award for International Cricketer of the Year: 2011–12, 2014–15, 2015–16, 2016–17, 2017–18
Wisden Leading Cricketer in the World: 2016, 2017, 2018
CEAT International Cricketer of the Year: 2011–12, 2013–14, 2018-19
Virat Kohli Career Stats
He is the only batsman who averages more than 50 in all three formats of the game.
He has a total of 70 centuries in his career till now including 43 centuries in ODI and 27 in test matches.
A look at Virat Kohli's stupendous Batting Career:
| | TESTS | ODI | T20 |
| --- | --- | --- | --- |
| MATCHES | 86 | 248 | 81 |
| INNINGS | 145 | 239 | 76 |
| NOT OUT | 10 | 39 | 21 |
| RUNS | 7240 | 11867 | 2794 |
| AVERAGE | 53.63 | 59.34 | 50.8 |
| HIGHEST SCORE | 254 | 183 | 94 |
| BALLS FACED | 12552 | 12726 | 2021 |
| STRIKE RATE | 57.68 | 93.25 | 138.25 |
| 100 | 27 | 43 | 0 |
| 200 | 7 | 0 | 0 |
| 50 | 22 | 58 | 24 |
| 4s | 811 | 1116 | 258 |
| 6s | 22 | 122 | 76 |
| CATCHES | 81 | 128 | 41 |
Virat's Bowling Career Stats
| | TESTS | ODI | T20 |
| --- | --- | --- | --- |
| MATCHES | 86 | 248 | 81 |
| INNINGS | 10 | 48 | 12 |
| BALLS | 169 | 641 | 146 |
| RUNS | 80 | 665 | 198 |
| WICKETS | 0 | 4 | 4 |
| BBI | - | 1/15 | 1/13 |
| BBM | - | 1/15 | 1/13 |
| ECONOMY | 2.84 | 6.22 | 8.14 |
| AVERAGE | - | 166.25 | 49.5 |
| STRIKE RATE | - | 160.25 | 36.5 |
| 5 WICKETS | 0 | 0 | 0 |
| 10 WICKETS | 0 | 0 | 0 |
Virat's Family
Virat's father Late Sh.Prem Kohli was a criminal lawyer, Mother Saroj Kohli is a homemaker. he has an elder brother Vikash Kohli, an elder sister Bhawna Kohli Dhingra. Virat recalls the toughest phase of his life when his father passed away untimely of a brain stroke. Virat was then in the midst of a Ranji trophy match. And he grabbed courage to continue in the match for next morning and not only that he stroked a gutsy 90 runs as Delhi saved the match against Karnataka.
Later in an interview with NDTV Channel, Virat had confined, "I still remember the night my father passed away as it was the hardest time in my life. But the call to play the morning after my father's death came instinctively to me. I called my (Delhi) coach in the morning. I said I wanted to play because for me not completing a cricket game is a sin. That was a moment that changed me as a person. The importance this sport holds in my life is very, very high,"
 Virat got married to famed Bollywood actress Anushka Sharma on 11 December 2017 at a private ceremony in Florence, Italy. The couple had been dating for four years and had kept their relationship very private affair. They are fondly referred to as "Virushka".
Virat Kohli on Social Media
Facebook: https://www.facebook.com/virat.kohli/
Instagram: https://www.instagram.com/virat.kohli/
Twitter: https://twitter.com/imVkohli