Rohit Sharma was born on 30 April 1987 in Bansod, Nagpur, Maharashtra.
A batsman having in his armory, shots all around the wicket, Rohit has often invited compliments and awe from his captains, luminaries of the game as well his rivals across nationalities.
This free playing, natural batsman, gifted with timing, grace and heavy scoring emerging from the batting foundries of Mumbai was laden by the commentaries of him as a talent. His batting elegance was compared to benchmarks of stats, style and ultimate successes, of batting heroes preceding him. This initially pressured him than give a vision of personal encouragement.
Rohit was included in the Indian squad for the inaugural World Twenty20 in 2007 and immediately displayed his value to the team by scoring an unbeaten 50 from 40 deliveries against hosts South Africa in the quarter-finals. The worth of his innings shone bright as India came through by 37 runs. In a closely fought final with its arch-rivals Pakistan, Sharma scored 30 (not out) from 16 deliveries. The impetus he gave to the total was enough for India to romp to victory by six runs.
Rohit's first ODI half-century was a 52 against Pakistan at Jaipur on 18 November 2007. He was selected for the Indian squad going to the 2007–08 Commonwealth Bank Series in Australia. In that series, the responsibility as well flair was on full flow as he scored 235 runs at an average of 33.57 with 2 fifties. A valuable 66 in the first final at Sydney where he partnered Sachin Tendulkar as their partnership steered India's successful run chase.
A slump in form and performances of Suresh Raina saw the latter replacing Rohit in the middle order. A position which Virat Kohli later got to occupy as the reserve batsman. On the back of a triple century in the Ranji Trophy, in December 2009 he was recalled to the ODI team for the tri-nations tournament in Bangladesh filling in for Tendulkar's vacant slot who had opted out of the series.
Rohit scored his maiden ODI century a 114 against Zimbabwe on 28 May 2010 in the tri-series also involving Sri Lanka. He followed his form in the next match as well against Sri Lanka with another century display, 101 not out on 30 May 2010.
2011 was not a noteworthy year in his otherwise remarkable career. Poor form, in the series against South Africa just before the 2011 ICC World, didn't invoke selector confidence and led to his omission from the side for the premiere tournament.
It is said that form is temporary but class is permanent. Rohit was recalled to ODI squad for the tour of the West Indies in June-July 2011. His batting flair found its mojo back as he scored 68 (not out) from 75 balls in the first match. The third match at Antigua at the Sir Vivian Richards Stadium saw India reduced to 92 for 6, and Rohit came to the country's rescue with his matching-winning innings of 86 off 91 balls.
His elegant batting held him in good stead as he was persisted with, especially by the skipper M S Dhoni, even when Rohit had managed only 168 runs during the year. The captain had reposed faith in his deft flair and ability. That was singularly guiding light in Dhoni's decision to position Rohit as an opener alongside Shikhar Dhawan for the 2013 ICC Champions Trophy. The field restrictions of initial overs, sufficient time and overs to build his innings backed with a natural ability to strokeplay. That was the inflection point in his career that roared subsequently and with great traction. The opening pair hit off, scripting success as India won the title, defeating hosts England in the final.
In the ODI series against Australia, 2013 at home, Rohit amassed 491 runs in just 6 matches which included his first of three double-hundreds. His innings of 141 not out and 209 stood out. The double century coming off just 158 balls and had, a then record, 16 sixes.
Up against stiff competition for a slot in the team and a freak injury in a practice session in  2009, Rohit managed a test debut only in 2013 against the West Indies in what was also Sachin Tendulkar's last international series. Rohit ended the series with hundreds in the first two innings he played as India registered innings victories in two Tests.
A finger injury held Rohit's charge but he came back all guns blazing, hitting a remarkable, his second ODI double-hundred, against Sri Lanka on November 13, 2014, in Kolkata. That innings is etched as a landmark of batting power in contemporary history. A world record 264 runs came off his bat and took just 173 balls and yet remains the highest individual score in ODI history.
Rohit Sharma had a fruitful ODI World Cup, 2015 ending as the second-highest run-scorer for India with 330 runs with a century against Bangladesh and two fifties to his credit.
His performances would have easily qualified him to the test side when another finger injury sidelined him for the New Zealand series at home. The rehab caused him to miss most of India's successful home season in 2016.
In December 2017, team India's captain Virat Kohli opted to rest for the series against Sri Lanka, so as to prepare for India's upcoming tour to South Africa, beginning the first week of January 2018. Rohit was given the mantle to lead team India. He made a successful captaincy debut as India won the series 2-1. It was India's eighth consecutive series win since defeating Zimbabwe in June 2016, indicating the kind of success team had enjoyed in 2016 and now leading unto 2018 for the South Africa series.
December 2017, was an unforgettable phase for Rohit in his career as he scored his third double century in ODIs, once again against Sri Lanka, while also captaining the team. It was a remarkable day of celebration as he struck the double century on his wedding anniversary, kissing his ring finger and dedicating the feat as a gift to his wife who was sitting among the audience at the venue. The mayhem his bat was causing to the Sri Lankan bowler's stats continued on December 22, 2017, now in the Twenty20 format of the game. Rohit equaled the world record of scoring the joint-fastest century of 35 balls in T20 Internationals.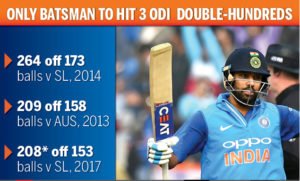 Sunil Gavaskar, a Legend of Indian Cricket, had this to say about Rohit Sharma In his column for The Times of India in November 2018 :
The standout performer in both the limited-overs series and the T20 series has been Rohit Sharma. Like Virender Sehwag before him, he is unstoppable once he gets going and like Viru he has an appetite for big hundreds. When Viru used to get out looking to hit another delivery out of the park, there used to be consternation around the ground, just like it is when Rohit gets out to a seemingly casual shot. If Rohit can turn his white ball exploits into red ball cricket, he will be the most destructive batsman in the world after Viv Richards and Virender Sehwag.
Rohit swagger couldn't be stopped at the 2019 ICC World Cup. He went to the record books as emerged as the leading run-scorer of the tournament as he piled 648 runs in 9 innings, hammering 5 centuries, a feat never achieved before.
Virat Kohli in the tournament that is perched at the top for pride in the game, the ICC World Cup, 2019 was effusing with accolades for Rohit's batting as Rohit became the first batsman to score five centuries in the same edition of the Cup. As well ending as the highest run-getter in the tournament with 648 runs to his credit in 9 matches averaging an amazing 81.00.
Rohit Sharma over the years with his batting stats has proved as a huge run-getter, one who rains sixes and has a maintained strike rate, over the years, that's miles ahead of his contemporaries.  His elegant cricketing shots are such a please to the sight whether they are caressed or hit with power. His languid style in caressing the ball suspends one in disbelief if he is batting at net session or routing the opposition in an international match. As a power hitter, his exquisite stroke-making is a breathtaking aggression to behold.
Rohit has rarely turned around his arm to bowl however his career stats as a batsman tell why he is called a Hitman!
Rohit Sharma's Batting Stats
| | TESTS | ODI | T20 |
| --- | --- | --- | --- |
| MATCHES | 32 | 218 | 101 |
| INNINGS | 53 | 211 | 93 |
| NOT OUT | 7 | 32 | 14 |
| RUNS | 2141 | 8686 | 2539 |
| AVERAGE | 46.54 | 48.52 | 32.13 |
| HIGHEST SCORE | 212 | 264 | 118 |
| BALLS FACED | 3613 | 9806 | 1843 |
| STRIKE RATE | 59.25 | 88.57 | 137.76 |
| 100 | 6 | 27 | 4 |
| 200 | 1 | 3 | - |
| 50 | 10 | 42 | 18 |
| 4s | 216 | 770 | 225 |
| 6s | 52 | 232 | 115 |
| CATCHES | 31 | 77 | 36 |
Rohit's record as a bowler with the team
| | TESTS | ODI | T20 |
| --- | --- | --- | --- |
| MATCHES | 90 | 350 | 98 |
| INNINGS | 7 | 2 | - |
| BALLS | 96 | 36 | - |
| RUNS | 67 | 31 | - |
| WICKETS | 0 | 1 | - |
| BBI | - | 1/14 | - |
| BBM | - | 1/14 | - |
| ECONOMY | 4.18 | 5.16 | - |
| AVERAGE | - | 31.00 | - |
| STRIKE RATE | 0 | 36.0 | - |
| 5 WICKETS | 0 | 0 | - |
| 10 WICKETS | 0 | 0 | - |